Namibia Table Tennis Association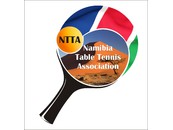 Namibia Table Tennis Association
Its all about Table Tennis!
News Report
The AUSC Region 5 Table Tennis Championships 2015, a massive success
Author: NTTA, 15/12/15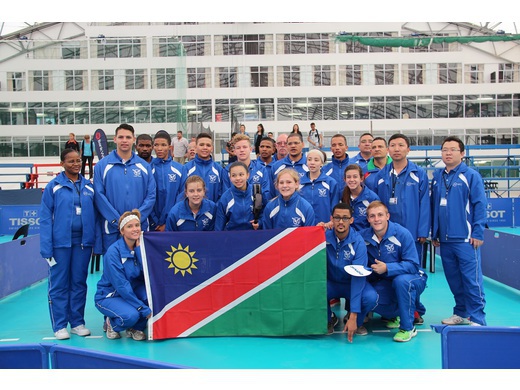 Team Namibia which consisted out of a total of 24 players, achieved its goal when Namibia A' earned 4th place overall in both the Mens and Ladies Team event which earned them a Bronze medal respectively. Namibia, as hosts, could enter two (2) teams into the Teams event and competed against five (5) other Southern African countries which included: Angola, Botswana, Malawi, South Africa and Zambia. Namibia B' finished 5th in both categories.
The future of Namibian Table Tennis look very bright considering that the Namibian B' Team consisting of Darren Strauss, Dietrich Mowes, PW Steenkamp, Ronaldo Vogel & Yannick Bohn, with an average age of 16, just narrowly lost to the far more experienced A' Team mates. The young Namibian Ladies team, with an average age of 15 years, not only performed well against their older, more experienced counterparts, but also registered the most wins of all Namibian teams.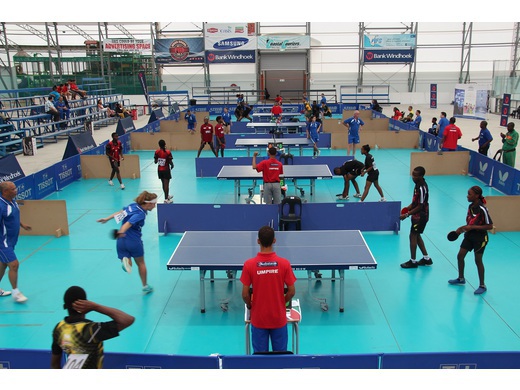 The Championship where dominated by South Africa and Angola. South Africa won Gold in the Mens Team event and Silver in the Ladies Team event whilst Angola won Gold in the Ladies Team events and Silver in the Mens Team Event. Botswana took 3rd position in both the Men's and Women's Team events with Namibia 4th position in both.
South Africa and Angola's class was further underlined when they continued their dominance in the remaining five (5) categories; Mixed Doubles, Men's Doubles, Ladies Doubles, Men's Singles and Ladies' Singles. South Africa took gold and bronze in the Mixed doubles with Angola silver and bronze. In the Ladies doubles it was Angola that scooped the gold medal before the South African pair and Malawi took the bronze in 3rd position. Angola also showed their class in the Men's doubles as here they also took Gold & Bronze in the Men's Doubles with RSA silver and bronze.
South Africa came back strongly in the Ladies and Men's singles as they had 3 players in both the ladies and men's singles semi-finals with an all-South African affair in the men's final with MATHOLE Terence (RSA) and LINGEVELDT Kurt (RSA) fighting out for the gold. In the Ladies singles the young ALBINO Isabela of Angola took the gold away from the South African trio of MAPHANGA Zodwa, PATEL Danisha and MADLALA who took Silver and 2 x Bronze respectively.
Detailed results:
MENS' TEAM
SOUTH AFRICA RSA 12
ANGOLA ANG 11
BOTSWANA BOT 9
NAMIBIA NAM 8
NAMIBIA 'B' NAM 7
MALAWI MAW4
ZAMBIA ZAM 3
WOMENS' TEAM
ANGOLA ANG 12
SOUTH AFRICA RSA 11
BOTSWANA BOT 10
NAMIBIA NAM 8
NAMIBIA 'B' NAM 7
MALAWI MAW 4
ZAMBIA ZAM 2
Mixed Doubles:
Gold: LINGEVELDT Kurt & MAPHANGA Zodwa (RSA)
Silver: NETO Mayone Costa Leite & BORGES Jerusa Malundo (ANG)
Bronze: LINGEVELDT Keegan & PATEL Danisha (RSA)
Bronze: NETO Edvanio Regada & TAVARES Ruth da Conceição de Sousa (ANG)
Ladies Doubles:
Gold: ALBINO Isabel de Oliveira & TAVARES Ruth da Conceição de Sousa (ANG)
Silver: MADLALA Khanyisile & MAPHANGA Zodwa (RSA)
Bronze: MWANYALI Beatrice & MWENEBUNGU Chrissy (MAW)
Bronze: LINGEVELDT Caitlin & PATEL Danisha (RSA)
Mens Doubles:
Gold: ANDRE Elizandro & ANTONIO Alessio (ANG)
Silver: LINGEVELDT Kurt & WAGNER Ashlyn (RSA)
Bronze: NETO Edvanio Regada & NETO Paixão da Silva (ANG)
Bronze: LINGEVELDT Keegan & MATHOLE Terrence (RSA)
Ladies Singles:
Gold: ALBINO Isabel de Oliveira (ANG)
Silver: MAPHANGA Zodwa (RSA)
Bronze: MADLALA Khanyisile (RSA)
Bronze: PATEL Danisha (RSA)
Mens Singles:
Gold: LINGEVELDT Kurt (RSA)
Silver: MATHOLE Terrence (RSA)
Bronze: LINGEVELDT Keegan (RSA)
Bronze: ANDRE Elizandro (ANG)
Follow the site to get the latest news and results straight to your email