Namibia Table Tennis Association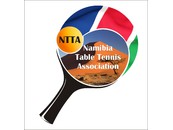 Namibia Table Tennis Association
Its all about Table Tennis!
News Report
TABLE TENNIS THE WINNER AT THE 2015 COASTAL OPEN
Author: NTTA, 27/05/15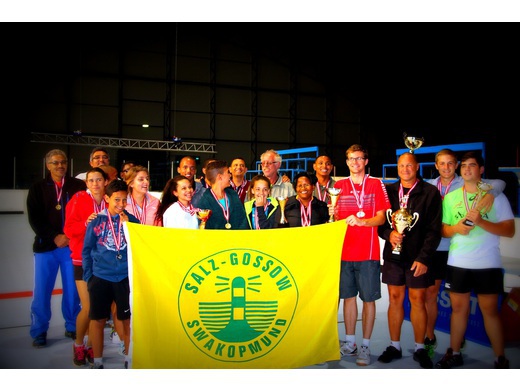 Junior entries exceeded expectations with a large number of entries from Elnatan, Rehoboth, and Mariental schools. There were also 3 participants younger than 11, indicating a bright future for table tennis in Namibia. Great was the surprise for all participants and spectators when Namibia's own International Olympic Committee Member, Frank Fredericks, paid a visit to the event and updated the juniors about the upcoming Youth Olympic Games in Buenos Aires in 2018.
Namibia Table Tennis really made good strides as our juniors produced very high quality table tennis, with upsets at the order of the day. It was however no surprise when Reese Saunderson and Kaitlyn Beukes, both from Windhoek Gymnasium, contested the junior ladies final where Reese triumphed with 3-0. Elnatan scholar Leandi Dreyer took the bronze medal. Reese then teamed up with Dietrich Möwes of St. Georges to secure the junior mixed doubles title when they edged out the Elnatan Private School pair of PW Steenkamp and Leandi Dreyer in the final. Third place went to Jesse Joseph (M&K Gertze Secondary School) and Ronaldo Vogel (Rehoboth High School) and it was a surprise not to have the favourite pairing of Kaitlyn Beukes and Kean Tait (Windhoek Gymnasium) on the podium.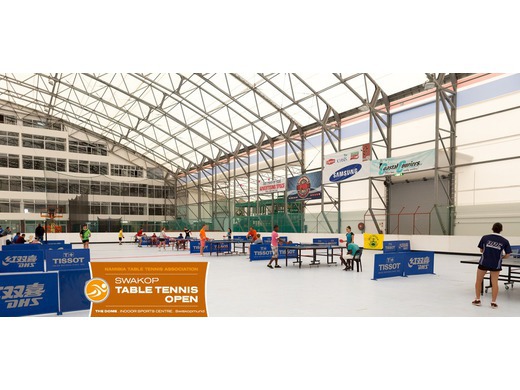 PW Steenkamp won the gold in the junior men division by beating surprise finalist Delton Dreyer (Mariental High School) in the final. The bronze medal was won by Ethan Januarie (DHPS). Number 1 seed Ronaldo Vogel and winner of the recent Namibia-China Friendship Cup, Dietrich Möwes, were not in medal contention after being eliminated during the quarter final stage by PW Steenkamp and Ethan Januarie respectively.
PW Steenkamp and his doubles partner, Jean Paul Thorburn (Elnatan) beat tournament favourites Ronaldo Vogel and Dietrich Möwes in the final to take home gold in the junior men doubles division. Bronze went to Kean Tait and Raimo Dengeinge. In the senior ladies category Khutsifalo Sekolokwane once again showed her class when she won the gold medal by defeating junior, Reese Saunderson, in straight sets in the final. Another junior, Kaitlyn Beukes, defeated local contender, Brigitte Hartz, in the bronze medal play-offs. More upsets came in the senior open division where Derick Rooza won the gold medal. The player from Walvis Bay had a tough route to the final and had to beat tournament favourites Ramon Hansen (semi-finals) and defending champion Heiko Fleidl in the final. Both these games were tough and he had to pull out all stops to secure victory for his region. Hansen secured bronze medal. This was Rooza's 1st major title. The pairing of Ramon Hansen and Rudi Saunderson successfully defended their doubles title when they beat Derrick Rooza and Fabian Tait in the final with Heiko Fleidl and Reinolt Schurz in 3rd place. Heiko Fleidl made sure that he did not leave the tournament without a gold medal when he and Khutsifalo Sekolokwane won the senior mixed double title against Fabian Tait and Junior, Reese Saunderson. Tait and Saunderson put up a strong challenge but it was not enough against the aggressive play by Fleidl and Sekolokwane. NTTA wish to thank Salz Gossow for sponsoring this event for a fourth consecutive year and the Swakopmund Indoor Sports centre Management for making the great facilities available.
Follow the site to get the latest news and results straight to your email