Namibia Table Tennis Association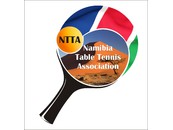 Namibia Table Tennis Association
Its all about Table Tennis!
News Report
Saunderson wins Liebherr Masters Cup 2016
Author: Heiko Fleidl/NTTA, 15/03/16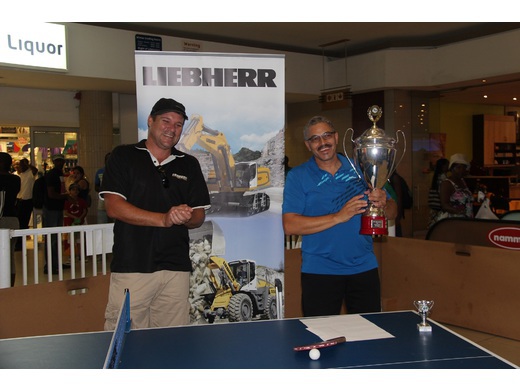 "For the 5th consecutive year, the NTTA Master's Cup was a super success. With Namibia's top 8 players battling it out to win the cup, this tournament is always a test of sportsmanship and technique as the space is small and there is also the added hype from the crowd in the Wernhil Shopping Centre", NTTA President Ramon Hansen said.
The Master's Cup is a promotional event, aiming at generating a bigger interest in the sport. The NTTA included a number of exhibition games to showcase table tennis and creat interest and awareness especially amongst prospective junior players. NTTA registered junior talent thus had the opportunity to display their talent and skills in front of a massive crowd at the shopping centre. The exhibition matches included a junior boy's act, a ladies act as well as a number of skill specific show acts.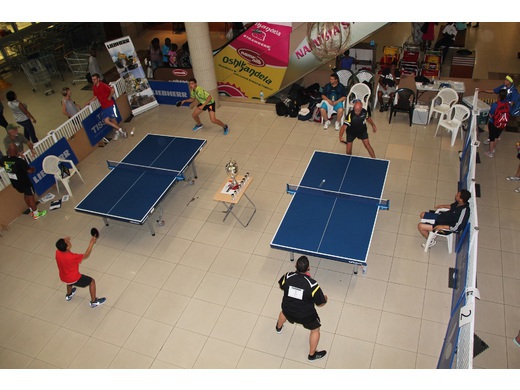 As per NTTA rules and regulations, the eight best placed senior players of the previous Season (2015), went head to head to determine the Masters Cup Champion for 2016. The games were played in a three game must win system, the winner being determined by the highest number of games won.
Rudi Saunderson, the current Namibian National Singles Champion, managed to outclass his rivals with top earnings of 16 out of a possible 21 point championship. Saunderson had a difficult start, losing to Heiko Fleidl in only his third match, but his consistency paid off as he then kept an unbeaten string, winning 7 of his 8 matches on the day and in the process earning the most points, a mere 1 point more than the defending champion Fleidl.
Second place went to Heiko Fleidl (SKW TT Club) and the current number one (1) ranked player in the country managed to take 15 points, one point more than third-placed SKW Club teammate Reinolt Schurz who was closely followed by Wayne Green (SKW TT Club) in fourth place. The other competitors were Derrick Rooza from Walvis Bay TT Club; Fabian Fait (Hochland Acers TT Club), Roger Beukes (Eliminators TT Club) and the number (1) ranked junior Ronaldo Vogel.
Anyone interested in taking up table tennis may contact the NTTA as soon as possible. This can be done via their website, http://namtta.leaguerepublic.com/, via email info.ntta@gmail.com or Facebook.
The next tournament is the Season Opening Tournament scheduled to take place on 2 April 2016 in Windhoek.
All tournament dates are available on the NTTA website / Facebook page.
Follow the site to get the latest news and results straight to your email