Namibia Table Tennis Association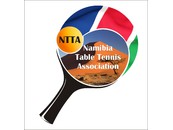 Namibia Table Tennis Association
Its all about Table Tennis!
News Report
NTTA releases Year-end Consolidated Table Tennis rankings for 2015
Author: NTTA, 06/11/15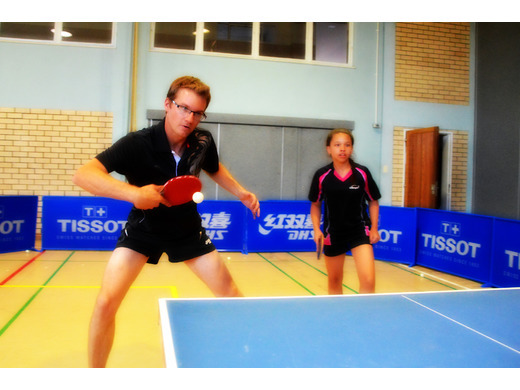 In the Senior Men's category, Masters Cup and Namibian Open champion Heiko Fleidl successfully defended his No. 1 ranking in Namibia which he regained in the 2014 season after relinquishing it in 2013 to Ramon Hansen. The member of the SKW Table Tennis Club acquired 1084 points, 72 more than second-placed Wayne Green (also SKW). Roger Beukes from the Eliminators Table Tennis Club secured third place on the Men's rankings with 1051 points to his credit.
Fleidl topped of a great season by further claiming and defending the top spot in the doubles category with his partner Reinolt Schurz. The pair ended the season with 976 points, a whopping 325 points ahead of second placed doubles paring of Ashley Julius and Roger Beukes. Reinhardt Stanley and Derrick Rooza finished the season in third.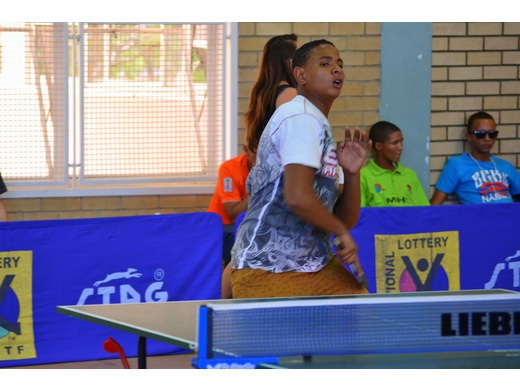 The top Lady Player of the 2015 season was the very talented Reese Saunderson. Reese proved to be the most consistent ladies player and just narrowly missed out on winning all ladies players in the 2015 Season. The evergreen Christa Mrozek took top honours in the final tournament of the year, the Windhoek Open, which denied Reese this feat. Runner up was Kaitlyn Beukes followed by Khutsafalo Sekolokwane from the Hochland Acers Table Tennis Club. The NTTA herewith invites all Ladies interested in playing Table Tennis to join the 2016 Season, which bodes to be the best Season yet.
Meanwhile Ronaldo Vogel from Rehoboth High School was the top performing U18 junior men's player. In addition to his No. 1 ranking on the junior ranking list, Ronaldo also finished 8th of the Senior Men's rankings, a truly tremendous achievement.
His closest rival, Kean Tait (Windhoek Gymnasium), accumulated 1334 points, a mere 24 points behind the No. 1. Another outstanding player was Zwandile Kooper, hailing Mariental, who most notably, won the Namibian Youth Championships against all odds in July.
Reese Saunderson (Oranjemund Private School), topped of a great season by ending as the No. 1 Girls u/18 rank player. Reese dominated the season by winning all u/18 Girls titles up for grabs and earning herself the maximum 1400 rankings points. Runnerup was Kaitlyn Beukes with 1380 points and third place went to Ciara Thorburn from Elnatan Privaat Skool.
Year-end Consolidated Table Tennis ranking:
Senior Men (Top-10):
Position Name Points
1 Heiko Fleidl 1179
2 Wayne Green 1107
3 Roger Beukes 1051
4 Reinolt Schurz 938
5 Fabian Tait 825
6 Rudi Saunderson 808
7 Ashley Julius 786
8 Ronaldo Vogel 775
9 Derick Rooza 764
10 Danre Dennis 712
Mens Doubles (Top-8):
Position Name Points
1 Heiko Fleidl / Reinolt Schurz 976
2 Ashley Julius / Roger Beukes 651
3 Reinhardt Stanley / Derick Rooza 584
4 Alex Jalon / Quinton Haoseb 564
5 Cui Yunke / Fabian Tait 500
6 Rudi Saunderson / Ramon Hansen 488
7 Wayne Green / Tomas Zapata 484
8 Leroy Beukes / Danre Dennis 370
Ladies (Top-8):
Position Name Points
1 Reese Saunderson 983
2 Kaitlyn Beukes 965
3 Khutsafalo Sekolokwane 696
4 Michelle De Koker 654
5 Ronel Esbach 635
6 Bregida George 493
7 Cornelia Wessels 355
8 Christa Mrozek 300
U18 Boys (Top-10):
Position Name Points
1 Ronaldo Vogel 1358
2 Kean Tait 1334
3 Zwandile Kooper 1295
4 Ethan Januarie 1250
5 Delton Dreyer 1040
6 Raimo Dengeinge 982
7 James Camm 936
8 Dietrich Möwes 926
9 PW Steenkamp 892
10 Reese Saunderson* 828
U18 Girls (Top-10):
Position Name Points
1 Reese Saunderson 1400
2 Kaitlyn Beukes 1380
3 Ciara Thorburn 1334
4 Leandi Dreyer 871
5 Jesse Joseph 864
6 Tayla-Reese Tait 828
7 Melindi Van Wyk 552
8 Nangula Iita 479
9 Anja Steenkamp 376
10 Zandre Benz 280
Follow the site to get the latest news and results straight to your email