Namibia Table Tennis Association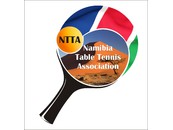 Namibia Table Tennis Association
Its all about Table Tennis!
News Report
Namibia - China Friendship Cup a resounding success
Author: NTTA, 22/04/15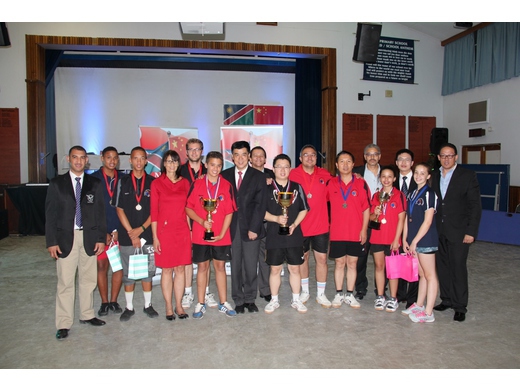 The competition consisted of regional play-offs, which commenced during March 2015, when junior and senior athletes from Hardap Region, Erongo Region and Khomas Region put their skills to the test to qualify for the teams that competed for a place in the final elimination rounds and eventually the finals last Saturday.
?Like art, sport is another common language of human being. Nelson Mandela said, sport is the gift from God to humanity. It could not only make you strong and pleasant, but also give you the gift of perseverance and the right attitude on life, enhancing the exchanges between different nations? a delighted Ambassador Xin Shunkang, Chinese Ambassador to Namibia, said before the finals.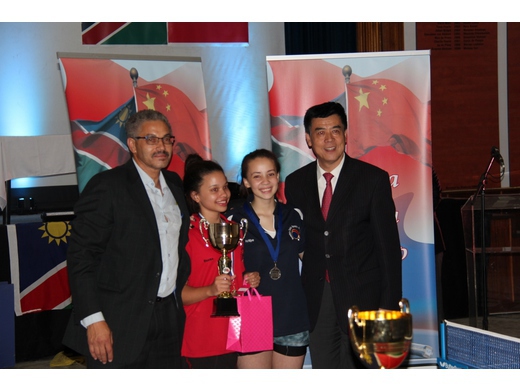 Ambassador Xin continued: ?China-Namibia traditional friendship dates back to 1960s. It can be further consolidated through cultural exchanges. In recent years, we witnessed apparent increase of the cultural and sport exchanges between our two countries. I am so glad to see that, although rugby and soccer are still the most popular sports in Namibia, there are more and more Namibian people loving and promoting table tennis. Among the Chinese people in Namibia, there are also hidden dragons of ping pang. With all your passionate support and promotion, here comes the first Namibia-China Table Tennis Cup, through which we will harvest physical excise, joy, communication and friendship. This is also our intention of organizing this tournament?.
The tournament was therefore aimed at celebrating the anniversary, but also to have a competition where table tennis was showcased and enjoyed by all involved.
The glamorous finals on 18 April 2015 at the Eros Primary School in Windhoek was a huge success. It was attended by Chinese Ambassador Xin Shunkang, Ms Joan Smit of the Namibia National Olympic Committee (NNOC), various guests, players, table tennis enthusiasts and family. The finals surely lived up to expectations.
Three categories competed for trophies, medals and gifts on the final evening. 1st up was the junior men (under 18) where Dietrich Möwes edged out Conwin van Wyk with 3-0 in the final. Möwes eliminated competition favorite Ronaldo Vogel in the semi-finals while van Wyk accounted for Delton Dreyer in the other semi-final.
Next up were the junior ladies (Under 18). It was the two rivals, Kaitlyn Beukes and Reese Saunderson, who again battled it out in the final to determine the winner. Beukes recovered well from an intense semi-final against Leandri Dreyer, where the latter almost produced a major upset against her. Saunderson eliminated Anja Steenkamp 3-0 in the other semi-final.
The final between the two rivals was sensational and closely contested, whereby Saunderson just had the upper hand against a determined Beukes. The final score of 3-2 is evidence of how tight it was.
The men?s final was an all Chinese affair after Charles Cui Yunke eliminated Heiko Fleidl and Wang Yuking eliminated Ramon Hansen in the semi-finals. The two Chinese Nationals produced an excellent display of table tennis in the finals. Charles Cui Yunke eventually clinched the title with 3-1 against his countryman.
The competition was regarded as a major success which not only focused on the competition between existing players, but also on the development and marketing of table tennis in Namibia.
Ambassador Xin also handed out a special, limited-edition commemorative envelope as a souvenir that was designed and produced for the 25th anniversary of China-Namibia diplomatic relations to all players, media representatives and visitors at the event.
As part of the development drive, Eros Primary School, where the finals took place on Saturday evening, received a table tennis table and equipment. Ms Poppie Hamata welcomed this initiative and look forward to introducing table tennis at the school.
It was further noted that an objective of the NTTA is to introduce table tennis in at least one additional region every year.
Follow the site to get the latest news and results straight to your email